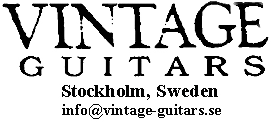 This page is part of our picture gallery of sold instruments.
Sorry, we don't do appraisals, so please don't ask.


This is the most common question a vintage guitar dealer gets from people wanting to know the value of their instrument.

Most people will agree that: "It's worth as much as anyone will pay for it".



"How can I find out how much anyone will pay for it?"



The best way to find out the true value of your instrument is to put it up for sale with a low opening bid on
one of the internet auction sites, such as eBay. The highest bid at the end of the auction is the most current
value of your instrument. All other appraisals are only mere speculations that may be far from the real value.

If you don't want to sell it, but only want to learn what the current value is, just put a really high reserve price
on your auction and it won't sell, but you'll still be able to see how much the highest bidder was willing to pay.


Other seller's asking prices
Another way to get an idea of the value of your instrument is to look at other seller's asking prices for similar
instruments. You will then notice that the asking prices may vary considerably depending on not only the
condition of the instrument, but also on other factors such as who's selling it.

If the seller is a reputable professional dealer with extensive knowledge about the instrument, and offers a
detailed description with high resolution photos, plus a generous return policy on top of that, it's more likely
that they will succeed in getting a higher price for their instrument than a private individual with limited
knowledge and a poor description would.

And remember, asking prices are sometimes only "wishful prices". Just because someone is asking a certain
price, it doesn't necessarily mean that they will get that amount. They may very well be ending up selling for
less than the asking price.

So, if you see someone asking a certain amount for their instrument, that doesn't mean that you will get that
same amount for your instrument when trying to sell it.


You could also look for completed auctions of similar instruments. But remember, just because someone else's
auction ended at a certain price, it doesn't necessarily mean that yours will. The seller might be a reputable dealer,
have more positive feedbacks, have exstensive knowledge about the instrument, be very skillful in describing it,
have far better and more detailed photos than you, or some other qualities that will attract higher bids.

It's not uncommon to see an instrument sell at an internet auction, only to be relisted soon after by the winning
bidder, but now with a much more professional listing, and ending at a considerably higher price.

So, by looking at how much someone else succeeded in selling their instrument for may not tell you very much
about how much you will be able to sell your instrument for.